Living in a digital age, keeping our practice up to date with cutting-edge technologies is our responsibility to our patients.Film-based or traditional radiographs are on the verge of becoming a part of history. That's not only because of the "in with the new, out with the old" attitude. Simply put, digital x-rays enable us to achieve dramatically better results in dental treatment. The computerised images are easily manipulated and altered to give it colour or simply use it as a negative. They can be magnified with no loss of picture quality. This helps us diagnose our patients with dramatically higher accuracy than film and offer an exceptional treatment.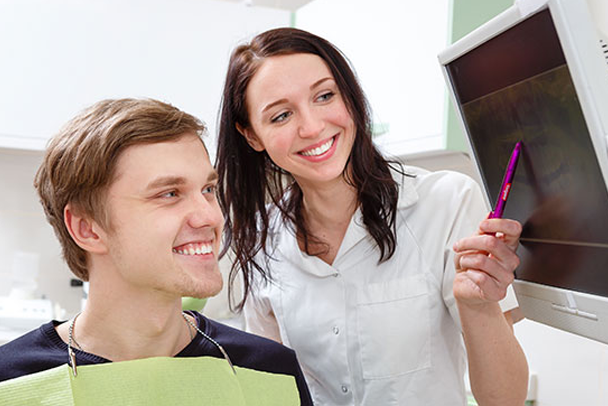 Digital radiography is one of the most important new advances that our profession has seen in quite some time. The capability to reduce the exposure of radiation to the patient while increasing our diagnostic proficiency has astounding implications. The reduction of the use of harsh chemicals and other waste materials associated with traditional radiography is also an added benefit to our environment.
Moreover, by superimposing the images we can show our patients the development of bones, bone loss and teeth alignment. Needless to say, waiting time for patients is considerably less with our digital imaging technology.
Working with green advancements and looking after our environment is a part of our vision. Using digital technologies, we tremendously reduce environmental impact of conventional radiography systems, which involve use of chemicals, cause radiation emittance and chemical waste harming the nature and health of human beings.
Use advanced technology for your teeth